Advance care planning (ACP) is a process that supports adults at any age or stage of health in understanding and sharing their personal values, life goals, and preferences regarding future medical care. 
Click here to download a PDF of this resource.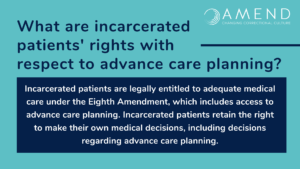 Why engage in Advance Care Planning (ACP)?
Engagement in ACP is associated with improved patient and family experiences with health care near the end of life and greater concordance (agreement) between patient wishes and the health care they receive.
In the setting of COVID-19, advance care planning and understanding people's wishes for medical care is critical. Up to 20% of patients with COVID-19 will require acute hospitalization, and 5-10% will require Intensive Care Unit (ICU) admission. Certain populations are at particularly high risk of mortality; among persons over age 80, mortality is estimated at 10-20%.
What are key barriers to Advance Care Planning?
Many health care professionals, even primary care providers, are not trained to have ACP discussions
Primary care providers report insufficient time to engage in ACP during routine visits
Electronic medical records do not always clearly delineate where and how ACP-related information should be documented
What are some of the unique barriers to ACP in the correctional setting?
Some patients may be more likely to mistrust healthcare providers in the correctional setting
Some incarcerated patients fear dying in the correctional setting, which can greatly influence their medical decisions when facing serious illness
Incarceration prevents people from accessing the social supports (friends and family) many non-incarcerated people rely on when making health care plans
Advance Care Planning in the Correctional Setting
Due to increased risk of morbidity (serious debilitating illness) and mortality due to COVID-19, all health care professionals should ensure that their patients who are incarcerated have had discussions about ACP.
Recommendations for Correctional Health Care Providers:
 1. Get started by familiarizing yourself with advance care planning documents developed for the COVID-19 pandemic.
We recommend the outpatient conversation guide developed by Prepare for Your Care, a website dedicated to helping patients with low health literacy engage in the advance care planning process. These documents include language that any clinician, from any discipline, including peer counselors, can use to start advance care planning conversations. See this outpatient conversation guide modified for the correctional setting.
Watch a 4-minute advance care planning video specific to COVID-19. This video was created by Vital Talk, a nonprofit focused on improving clinicians' communication skills. 
Consider reading Vital Talk's COVID Ready Communication Playbook for more in-depth communication skills and techniques you can utilize during COVID-19.
2.  Establishing and document a surrogate medical decision maker for the patient
Explain that a good surrogate decision maker is someone who they trust to follow their wishes. The patient should tell their surrogate they have been chosen for this role. Ask for several forms of contact information and identify an alternate surrogate if possible.
Establish where ACP information will be documented in your institution's medical record.

ACP information should be centrally located and easy to find.
Some providers create a problem on the problem list called "Advance Care Planning" and document their patients' wishes and medical decision maker / Durable Power of Attorney (DPOA) information there.
3. If the patient wants more information about any aspect of advance care planning, utilize materials from the Prepare for Your Care website
If the patient or their loved ones have computer access, encourage them to visit the Prepare for Your Care website
If no computer access, print out pamphlets for your patients (in English or Spanish, available at here), as they are useful conversation starters
Prepare for Your Care also contains easy-to-read advance directives that are legally valid in all 50 states in English and Spanish
4.  If the patient is transferred to the hospital, be sure to to send their ACP information with them, including their surrogate medical decision maker's contact information. 
Remind the receiving healthcare provider that many incarcerated patients are mistrustful of correctional clinicians and their ACP should likely be re-addressed upon arrival.
Provide written contact information for the surrogate decision maker(s)
Provide a copy of an advance directive, if applicable.
In Summary