In the face of the COVID-19 epidemic, reducing population density inside correctional facilities is an urgent first-line public health measure necessary to curb disease transmission. The purpose of decarceration is to release as many people as possible to non-institutional (or at a minimum to nonovercrowded institutions) where they can practice social distancing and comply with shelter in place guidance while enabling better social distancing within the remaining population.
Decarceration should focus on groups of people who are immediately suitable for release:
People of any age who have been granted pardon or parole

People serving short terms for technical parole or probation violations (e.g. failed drug test)
Decarceration should focus on those suitable for release because they pose little or no public safety risk and are at heightened risk for hospitalization and death, if infected with COVID-19:
People of any age who have completed paperwork for compassionate or medical release
Decarceration should focus on people identified by medical professionals who have or will have a particularly poor prognosis if they develop COVID-19 (prioritizing by age and chronic conditions):
Age is strongest predictor of hospitalization, ICU use, and death from COVID-19. Prioritize those age 80 or older first, then those 70 or older, then 60 or older, and then 50 or older

Chronic Conditions, including cardiovascular or respiratory disease, diabetes, cerebrovascular disease and others, are predictors of poor outcomes with COVID-19
Public-Health Focused Decarceration during COVID-19 should Prioritize Four Groups: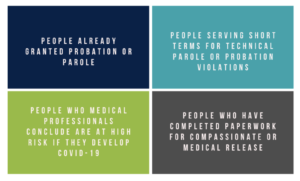 Foundational principles to guide public health-focused decarceration during the COVID-19 epidemic
Release policies during the COVID-19 pandemic should meet the public health goal of decarceration: to minimize COVID-19 spread by reducing risk in jails and prisons. Much more on the following, including timelines and step-by-step instructions, can be found in the Appendix section of this downloadable PDF.
For those with housing, release immediately – do NOT require quarantine prior to release

Ensure that people being released have adequate housing (including halfway houses) to self quarantine as needed or shelter-in-place according to local public health guidance

Do not use lack of suitable housing to exclude people from release; instead call on local communities and deploy intensive discharge planning resources according to need
Provide critical patient education and personal hygiene supplies before released, including instruction to self-quarantine for 14-days and information on how to do so correctly and safely
Provide connections to vital health and socioeconomic resources; increase the amount of medication (~90 days) provided and accelerate enrollment in insurance
Emphasize availability of community mental health crisis and substance use support resources

Suspend all non-essential, in-office probation or parole requirements, including routine drug tests, for as long as social distancing and/or shelter-in-place mandates are in place
Do not re-incarcerate people for technical violations or crimes that pose no immediate threat to public safety
These foundational principles will allow for the safe release of incarcerated people to achieve a critical public health goal during the COVID-19 epidemic: reduce disease transmission inside correctional facilities, acknowledging that the spread of COVID-19 inside jails and prisons will have catastrophic consequences for the health of families and communities connected to these institutions and all those relying on scarcer community health care resources in the current high-risk environment.
For more on providing guidance for assessing prognosis in the setting of COVID-19, correctional health care providers should watch this webinar.